Fanny Pads can be Reversed...
Daring Little Quarter Shelves...
Crotchless Mighty Mite...
Wicked Waist Nipper...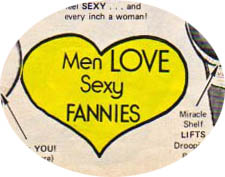 Perhaps a characteristic of the Trade Catalogue that it occupies a zone somewhere between the total audit of a product range and the obsessive worship of the product itself.
To facilitiate customer choice, the product range e.g. collars, perfumes and tennis rackets, is deployed within a strict grid. with clear descriptions, terms and identifications.
Not so the products available from Frederick's of Hollywood, celebrated for their production of exotic attire and accessories, male and female, for the mass market (this edition 1975).
The need to excite spurred on the powers of the catalogue team,the layout artist, the illustrator, the copywriter to heights of graphic frenzy (see above and beneath). Although the stylistic repertoire of the medium of erotic illustration is a very conservative one, the illustrators for the Frederick's catalogue seem to intensify the externalisation of sexual excitement, where every strap, thong, gusset and frill flutters to the frisson of tumescence. The lettering mimicks the breathless panting of fore-play.
I am grateful to a mysterious and discerning collector/connoisseur, living abroad, for making these choice examples available to the Visual Telling of Stories archive.
Dr. Mullen denies herewith the previously circulated slur that he himself had been the model for the running man in "Steam Bath Action." Although the dates seem to coincide, he would never have tolerated such an impossible anatomic distortion of the upper body axes. Never would he have permitted such a wilful flaunting of spatial logic in that the female model in rubber corset is running away with the wrong arm.
How to Get Yours...
He's got his thing in a string-kini...
Make 'em all gasp, gape and LUST for your bod...
Look and feel Bare but Supported ...
(What more can you ask for in Life?)