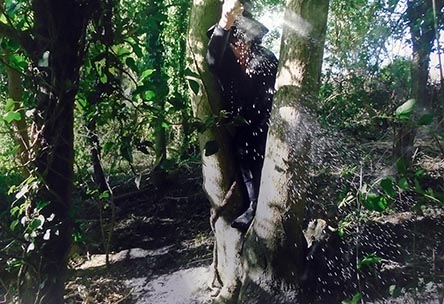 Boxing in the Spinney
Roll Up
Roll Up
In the blue corner in the white trunks
F Frauehauf aka the Battling Flayer
And in the red in the black trunks
Frauehauf F the Flaying Battler
The tent's canvas flaps flatly in the night
with lanterns swinging in the Spinney trees.
A needle match over disputes deep within
lacking audience but adjudged by
a liveried attendant in braid,
golden epaulettes
and oddly sporting
his campaign medals,
Left circles Right, and vice versa
Red feints and Blue pirouettes
The one short jab, the other wild swing
In pure showboating
As Red bares teeth and Blue bares all
Huge red candy gloves
Singlets with protectors
Low blows, counter sinking and
Grappling
Weaving
Tussling
Beating herself up
And the Moon over the Forest slips by
Unconcerned silver in the reddish lantern glow.
Leaves blow across the floor
As hands are held aloft
So it is said
One Red one blue.

The lanterns dim with dawn
And the ref's face spanning moustache
Cut from genuine Aubuisson
Falls from his lip
And gets a bigger laugh
Than the tent peg parting.
Red Blue
Left Right
Long gone
The disputes of course unresolved
As the Spinney turns with another season.