Larry Baranovic (b 1920 Donora PA - 2010 Charlotte )
Baranovic worked for seveeral automobile companies, most notable for Chrysler from 1954-57, mainly for their brochures. One obituary mentions that he did a rush job for them over a single week, and billed the companyfor $35,000.
His airbrush skills and sense of controlled Baroque design are highly characteristic with a density of surface few other artists could emulate. His compositional facility allowed him to shift easily from one dimension to another with never a seam showing. It is remarkable that the product is represented in the public's mind with dark, storm tossed imagery. The beasts are reined in, but such is their power, there is no guarantee they will not tear the place apart. Not what Chrysler Industrial Engines intended surely.
Obituaries regularly refer to his meticulous drawing and professional organisational standards. He died this year aged 90.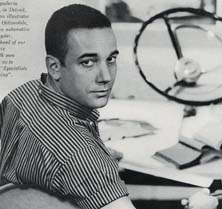 (FORD CANADA with biographical details)
CHRYSLER INDUSTRIAL ENGINES
Horsepower with a Pedigree,
Most images signed
September 15, 2010" Larry's claim to fame was his work as an automotive illustrator. His artwork for Chrysler, Ford and General Motors appeared in newspapers, magazines and sales literature throughout the 1950s. He was also a stylist for, if memory serves, Nash and Hudson. He illustrated Chrysler sales brochures for 1954 through 1957. He was a master of the airbrush. A good friend who will be missed.~ David Hall, Fairfax, Virginia obituary in the Charlotte Observer
1950 industrial panorama
1953 Reined horses
1954 Mackinac Bridge
1953 Logging
1953 Agricultural Harvest