I arranged to meet H.S. Williamson in his house in Norwich. His daughter was the cellist Sarah Williamson and a pal of our lodger John Trevitt. H.S.W. had been Headmaster of Chelsea School of Art, employing, among others, Henry Moore and William Roberts. He himself was an artist and celebrated poster designer. In the First World War he had been appointed Official war Artist but the armistice intervened. He showed me sketchbooks full of studies of the Horses used by the British Army in Hostilities. The deal was a chat because I was interested in finding out more about him.
Mrs.Williamson settle us down in the front room with a tray of tea, and as she left, he gave me a wink (unexpected in such a tall, and dignified man) and said "I could tell you a few things!" Maybe this is the great unspoken when two workers at British Art Schools met. He talked movingly of taking a volume of Ruskin into the Trenches which distracted and galvanised him in equal measure. Chelsea had been his great achievement and he was proud of his posters. Taking me round the house, it was surprising how few of his works were hanging, and how many Ceri Richards canvasses were on the walls. Richards had been a great friend. As I was about to leave, he said something I never forgot. "All this art stuff is baloney you know. It's music that matters. My great joy is…… Radio Three."
I have found this attitude often in friends and colleagues. David Watkin had (profitably) spent his life photographing films but he regarded it as being of no greater consequence than being a talented Carpenter or Taxi Driver. He lived for music, musicians and was transported solely by his faculties of hearing. I have been a voracious consumer, but never a performer or a scholar.
Beside the bed today we keep a large cabinet wind-up gramophone, the platform now for Sam's discarded Lava Lamp and a bedside radio. Opening the lid, the aroma of felt, discarded needles and cheap ply wood quickly fills the room. A dozen shellac records stand, stripped of their paper covers, in the racks, ready for an instant demonstration to those who know only digital downloads. I see now how easy it is to be part of Cultural Antiquity, a last remnant of the generation who varied volume with a sock down the Gramophone Horn. I was once asked to wind the handle while photographs were taken. No, I said.
My parents has a wind- up in Liverpool (played for me by our neighbour Jill Larkham who also used to give me a bath aged 5). The machine made it to Handforth, and I remember it at Watford. Fred Godfrey and Jack Payne contributed "Skinamalink the Sergeant" b/w "When the Guards are on Parade". At Woolworth's shellac disks were cheap and my first purchase was Nancy Whisky's skiffle triumph "Freight Train (Goin' so fast)" in 1957. From my Grandmother I inherited Gracie Fields' sister Betty, singing "He hadn't up to yesterday, but I bet he will tonight." What did I find out? That I could keep a tune in my head, and I had an ear for outrageous, indecent and ingenious lyrics. I went on to acquire one Christmas an Elizabethan Reel to Reel Tape recorder which should have enlarged my musical horizons, recording directly from the radio with a microphone which also picked up every twang of the bedsprings or being summoned for Dinner.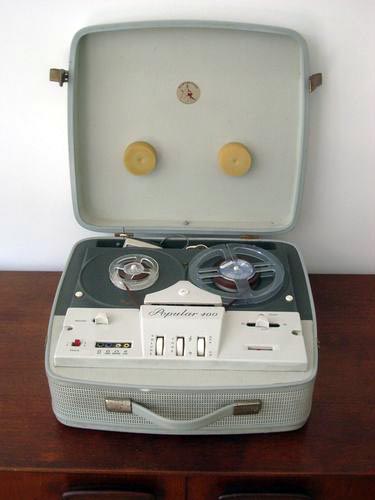 The problem was that the radio programmes available before the advent of Commercial Radio were listless and formulaic affairs, summed up in the Alan Dell programme which endless repeated the sequence Male Vocalist, Female Vocalist, Orchestral Piece. So the next fifteen minutes of my life trickled away in Max Bygraves, "I'm a Pink Toothbrush", Eve Boswell, "Sugar Bush" and Mantovani and his Orchestra's "Charmaine". Listening to Radio Luxembourg was a secretive activity under the blankets at night, incapable of being recorded for re-listening. By the time Radio Caroline was launched I had left school and was an articled clerk (1964) .
The Elizabethan was a challenge in many ways, a double sided three hour tape capable of storing many examples of music. Every now and then I hear a song or a snatch of melody and a pair of numbers appear in the mind, last seen on the lid of the tape, marking the beginning and end of say Danny Kaye, "Tubby the Tuba" recorded one desperate morning from Uncle Mac's Children's Favourites. That's how desperate I got.
The key to all this was the absence through sheer snobbery of the best of American popular music, associated in the BBC's mind with Elvis' seductively twitching pelvis and Jerry Lee Lewis' Child Bride. Close harmony singing groups seemed to be popular, inserted halfway though comedy programmes. Turn the radio on, and the announcement of the Mike Sammes Singers was enough to numb the brain and induce sleep. There is a solid and substantial book to written about Tedium and the Fifties. The Black and White Minstrel Show was voted the best TV show in the World when I was 16, an award that did hurt to my soul. Top of the Pops was launched when I was 19, and it seemed disappointing at the time, with its Disk Jockeys who looked like my Dad, Peter Murray (still alive at the time of writing) and David Jacobs (just dead) At nineteen and with a Grammar School education it was perfectly obvious at the time that Jimmy Savile was a charlatan and a perve. It took one (charlatan) to spot one. He had his schtick and I had mine.
The sheer idea of legitimately owning music myself was foreign to my childhood. It wasn't there, I couldn't afford it, and I had to memorise it quickly. And I never really forgot it. I still feel a sneaking sense of guilt that I can listen to Magic Flute, or watch Yojimbo whenever I want.
If one remedy was Radio Luxemburg, delivered in erratic form on my crystal radio. Another was feeding off the enthusiasms of others, and of course that meant sparking with Phil Beard. Was it a fantasy that we used to go up to London at the weekends from Watford Met? We would wander round Soho, listening and occasionally buying a copy of the American Musical Bible, Variety. Did we see the Stones slouching into a café that Saturday lunchtime? Soon our familiarity with Sam and Dave, Clarence 'Frogman' Henry and the like was legendary at the Grammar School. Phil said that our mutual friend Nicholas Hochstratter associated me with the Hard Edge of Musical Taste. Gratifying though it was to hear how I had impressed (again) it is further proof of my ability as a Mimic and a Bluffer. Phil was possessed of a much more determined and focussed pursuit of American Popular music, evidenced by his impressive record collection of 45's on American labels, all in their original sleeves.
I think that, while in his company, I suppressed a flabbier musical taste perhaps summed up in Bobbie Vee (the original pressing of 'Rubber Ball" long in my collection) and a penchant for solo piano novelties, Kokomo (Asia Minor) and Floyd Cramer (Last Date). I had a fascination with John Barry's pizzicato frolics and was even prepared to put up with Adam Faith to listen to them, closely concealed from Phil. We were however as one on Sam Cooke and on Green Onions. Together we went to see Ray Charles live at the Hammersmith Odeon, and as a mark of my devotion, felt that clapping was common, and the sheer weight of my adoration was enough.
Had I more courage and determination I would have gone to more Rock and jazz performances. Bo Diddley appeared in Watford and I should have been there and not doing my homework. Even at this age I was uncomfortable with live performances, with a ridiculous fear I didn't want to be there when my idol screwed up. Ray Charles and the Raylettes were of course perfection, and their delivery indistinguishable from the recorded version (very rare this). It was Ray Charles I was listening to on the huge Family Fornicatorum (a vast spangled radio record player and drinks dispenser), when Kennedy was assassinated. I broached the possibility that playing "Hit the Road Jack" might have contributed to the event, which Phil conceded was entirely possible.
One purchase that has outlasted the years and any reasonable person's memory was "Walk Don't Run" by the Ventures. How did I manage to see them on screen playing the number at the time of purchase? But I did. Quiffs, sharp shoes and synchronised guitar wielding. The comparison with The Shadows sums up the inadequacies of British popular music. The Ventures were from a different planet, cool elderly and lumpish, not an attempted seduction of the Teenager. Their rhythms and riffs were immaculate, their tremelos controlled, even manic. And of course they didn't have Hank Marvin. How could they go wrong ? The whole structure of the Track was the very sort of carpentry I would liked to have achieved with Mr. Vale, every joint firm, and a smooth, satin surface with seamless transitions. See them on Youtube posturing on giant pillboxes and choreographed by the Floor Manager. Perhaps watch their 45th Anniversary live, to see how much we have lost.
The Elizabethan Record Player with its auto-change could be fixed to play this number over and over again, until my Father drummed on my door, and remonstrated. He was not to know things would get even worse for the rest of the family.
This was to be an honestly confessed passion for Buddy Holly, whose singles I bought as they were released. The first purchase after an initial airing on Radio Luxemburg was "Heartbeat in 1958". Then it was catch-up with singles, extended plays and the gorgeous "Buddy Holly Story Volume One". Careful reading of the "New Music Express" and "Melody Maker" (that superseded the "Eagle" through our letterbox) informed me as to every detail of the man's life, every song lyric and its variants. Choosing a pair of spectacles, I was allowed the heavy horn-rims much to my father's disgust. That bankers affected a similar style mollified him a little.
The singles were stored in their own box. Clippings were filed in a sock draw, and, at every opportunity I would talk the talk, at breakfast, lunch and supper, to my school friends, family, and even to patient neighbours over the garden wall. Out one evening with Dad's best friends the Spears family, I had launched forth to the possible exclusion of every other topic of conversation, and realised I was causing some mirth and probably a little annoyance. I never made the mistake again,. Never. And it came in handy as a teacher to scan the crowd and see boredom, distraction and contempt. I remember Ron Spears chuckling and raising his eyes in amazement at my performance. "Right Matey" I said under my breath. "This will not happen again. " Not only did I never mention Buddy Holly again, but fail to respond when the patronising line emerged (as I knew it would) "You gone off Buddy then, Chris?"
With a prodigious memory for slights and imagined slights, I then reviewed my entire dealings with Ron Spears. I had instant and accurate recall of all such exchanges on return from the restaurant that night. He had taken the piss when reading one of my poems that I had misspelt 'melancholy' as 'meloncholy', and the word melon had often cropped up unexpectedly in conversation. When sitting in the back of his car with his beautiful daughter Susan, he had told me I had a natural singing voice as I launched into a an unplanned version of Tommy Steel's 'Little White Bull'. You bastard, you'll be sorry for that. He did however have a fine record collection, and on his sofa I flirted to Erroll Garner's 'Concert by the Sea'.
A major influence on my musical tastes was the Concert Hall Record Club which made classical music accessible to those like me. The initial attraction was an offer of free Extended Play records to start you in the Club. You then undertook to buy a number of monthly choices during the year. Early in our marriage, I discovered that Oriole had also been a member and had purchased "In the Hall of the Mountain Kings" and "Rosamunde". When I used a few choice observations about Grieg as a chat-up line at the University of East Anglia, little did I suspect she had read the same short notes on the back of the record sleeve and had rumbled me.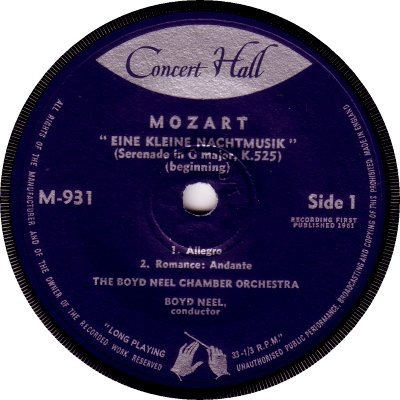 Next purchase was from W.H.Smith's, Bartok's "Concerto for Orchestra" because the second movement called "The Game of Pairs",("Giuoco delle coppie") had immediately generated a wild visualisation of interpretative possibilities. If the Ventures could find a visual form of barely shifting crafted wooden planes, the Bartok offered in my mind a set of parallel events, with a sinister edge and a jaunty malevolence I had to find a visual equivalent for. It brought narratives into my imagination like no other experience. "The Sorcerer's Apprentice" was shallow and leaden stuff compared with what the Bartok did to my head. Any visual delight in the Disney was of course further diluted by the presence of Mickey Mouse in his Big Guy's dressing gown, and winsome helplessness.
In the last year of my undergraduate course we took as a tenant in Edinburgh Road, Norwich , a contemporary from the School of Music, John Trevitt. I am grateful that I was fortunate to bein touch with others who knew so much more about music than I did. David Watkin, cinematographer. John Vernon Lord, illustrator. Emma Kirkby, singer.
John Trevitt was a sweet natured Cornish lad who had conducted choirs, played the piano and was planning a doctorate on Debussy and the Diminished Seventh. He'd freely confessed to pissing on an electric fence when ten years old, and getting his fingers stuck in a milking machine three years later. In the process Oriole and I were treated to masses of music by our tenant, such as Debussy, Ravel, and Chausson who, Trevitt maintained, died "in a mysterious bicycle accident". We listened to bootleg tapes at home, to rare imported vinyls. My student grant was dented considerably by regular visits to Geoffrey Ives' second hand record shop near the Town Hall.
Trevitt was hilarious and a magnet for organisational disasters. He was immensely sensitive to people's reactions to a minor malformation of his fingers that made playing in public an unsettling experience. His back had a slight, a very slight, twist of the spine which complicated his self image to the extent that a stray reference to Dickens' Tiny Tim would cause him to blush and leave the room, an echo no doubt of childhood bullying. I designed sets for him for Debussy's "Boite a Joujou" held in the University's main lecture hall. It was a matter of prefabricating coloured disks to be hung from wooden frames. A theatrical cannon was provided. At one performance of this beautiful music, staffed by some local tots in panto gear, the cannon was fired, and a large ring of white smoke, almost four feet across slowly emerged from the muzzle and floated mesmerically out into the audience. The beauty of the spectacle caused the music to be delayed for several minutes. Trevitt got his PhD, was appointed Supervisor of Music at Hitchen College of the Arts, became a Choir Master at a Private School on a Greek island, and when that folded, a teaching position in Moscow where he died, it is said, alone and an alcoholic.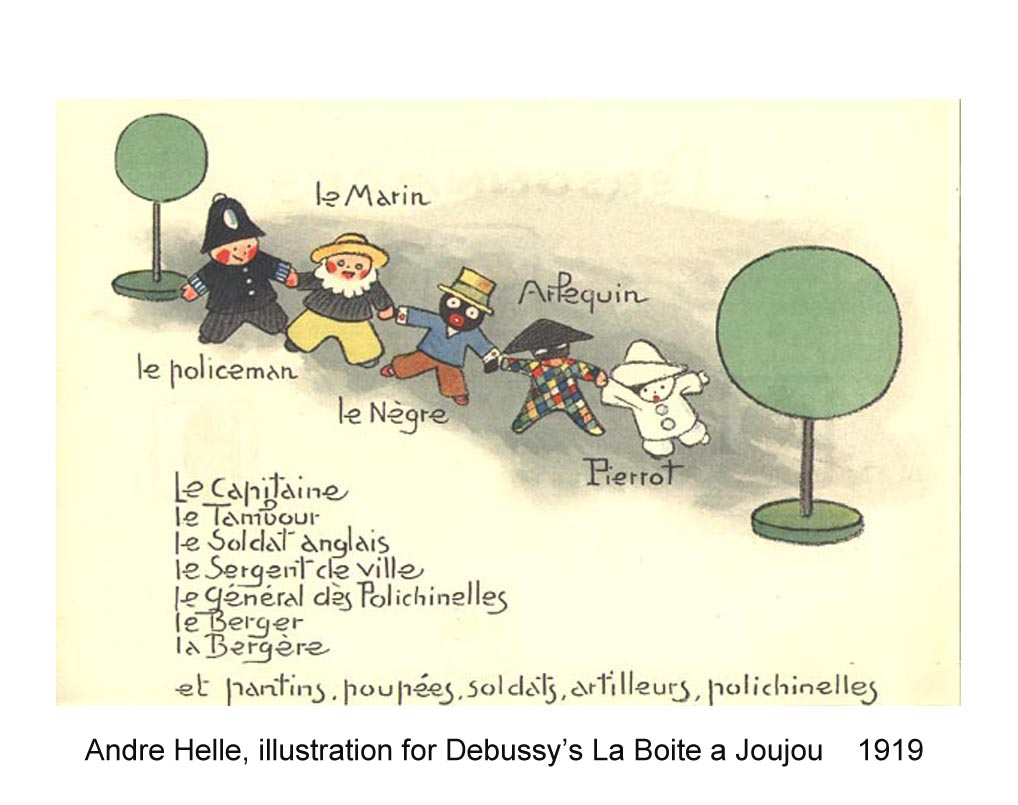 He was also involved in getting Bryn Jones to conduct a performance of Verdi's "Nabucco" which for an amount of slightly over £120.00, Oriole and I with Anton and Viv Lovell provided the costumes and sets. I sensed the power of generating images to Music, silk-screened costumes with the Israelite motif on one side of the Cotton Duck, and the Egyptian motif on the reverse. Two professional singers had been engaged, one of whom was insistent that she enhance her costume with great swags of glittering jewels. For the famous Chorus of the Hebrew Slaves (Va, Pensiero) I had bought a roll of cheap muslin which Viv Lovell tye-died. With a small electric fan pointing upwards, the visual effect was scintillating, mysterious and multi-focal. Unfortunately, the day before Opening Night, the Norfolk Fire brigade paid a surprise call and declared my shimmering curtain a Fire Hazard. I hurriedly immersed the Muslin in dissolved retardant crystals. The Hanging Gardens of Babylon were thus presented to the paying public as a rigid purple plank, that barely moved from the vertical with even the strongest fan.
I designed a huge Blue sword for Nabucco to wield. It was consistent with the flat graphic feel I wanted (and could just about afford) but was prevailed upon by the soloist that it had to be silver. The ensuing effect of a realistically metallic seven foot sword no human being could have lifted from the ground was of course ridiculous, and I knew I should have stuck to my guns. Combined with contributions to the University Reviews, these musical experiences confirmed in me that with my Controlling Nature I could not live happily with creative chaos and lack of organisation. The Thespian impulses were diverted to Lecturing where it was all down to me.
Probably the most formative influence on my Music was meeting David Watkin who deserves a chapter all to himself. Before I came to Brighton in 1989, I had not purchased a single cd. Somebody had given me "The Best of Noel Coward", found in a Charity Shop. My Boss at Brighton, John Vernon Lord was phenomenal and a manic music fan. In order to keep up with him I began buying cds on our Lunchtime rambles, Naxos disks being cheap and preferred. John had a sensational representation at home of the repertoire. I had never seen entire runs of the Bach cantatas. The Storm of 1989 had wiped out his collection of reel-to-reel tapes as well as his outside studio. What was left was impressive enough, and he was generous with access and advice. His documentation of performances and soloists was meticulous and taught me that merely emoting at the waves of sound was not enough. Oh but he knew his stuff and could peruse the stacks at Keith and Vivienne's Classical Record Shop in Duke Street Brighton with flair and humour.
He the Master and I the acolyte, however, were taken into a new dimension in meeting David Watkin. Save it to say here that David had committed an entire room to his beautifully shelved cds (sharing with a wall of wine). Many had been bought abroad, and many given by musicians of his acquaintance. His sound tapes occupied a wall of another room and around the walls were signed photographs of the great conductors, Mengelberg, Furtwengler and Bruno Walter. Over there was Schnabel's piano stool, and on the Harpsichord a signed printed score by Haydn. A biography of Mahler he gave me contained a postcard from the composer dated 1905.
My initial thoughts were that I could get him to talk about my major interest, Cinematography and Lighting. Yet he skirted over these subjects quickly, to begin monumental discourses on aspects of Western Classical Music. At the sound of Jazz, he curled his lip, Pop Music only detained him when the singer pouted and beckoned seductively. He would attend concerts anywhere on earth, adore the music and spot a cute second violin. He worked his trade with John Adams, Daniel Barenboim and Peter Sellars.
Above all he wanted to share, buying you tickets, running you off a set of comparative recordings, openly amazed when you hadn't heard of some obscure Austrian soloist, "You mean you haven't heard Piskatov playing the Diabelli. He was very cute when he was young." A game we played once was devising a First Eleven of composers with dirty names. The phone would ring and his researches in Groves would come up with Fux and Benda. He was so taken that it took minutes to assemble his thoughts and stop chortling. In the Classical Long Player Shop, he found a disk by the Lancastrian composer William Rimmer. In his merriment he had to cling onto the shelves and roar. "Look" he said, to another customer looking through the recent releases, "Look…. William Rimmer!!" Keith and Vivienne suspecting a moment of huge embarrassment, retired into the office, leaving Watkin dealing with the nonplussed fellow customer not conversant with Gay Slang. I walked over to the World Music section leaving David floundering on his own. Did him good, I felt.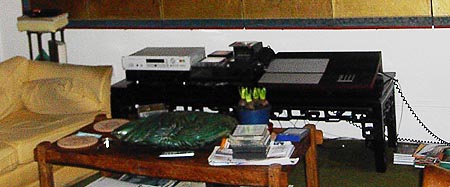 Most characteristic of all, visiting for lunch (the all pink sequence of salmon, then raspberries) you'd be sat down on the sofa facing the Cape Canaveral Speakers to hear his new recording of Bruckner Five, "Daniel at Chicago…."
I often went to lunch and even took students to talk to David. Often I would go at noon, having to get back to the University to deliver a lecture at 2.00pm. Some of the movements of Bruckner's symphonies lasted nearly half an hour. To make sure I stayed to the end of the movement he would have a taxi waiting outside his Mews House. With a bag full of slides and hand-outs I would run to the Taxi whose Driver would give me a broad wink. "To the station?" he smirked. This was a sure sign he believed me to be a Rent Boy, probably the oldest in the business.
Having heard yet another glib academic give an account of his Private Passions to Michael Barclay, I persuaded Emma Kirkby to intercede on David's behalf. Watkin's thoughts on conductors, performances and the sex lives of composers would have enlivened the programme no end. He had a giant ego, but it didn't cloud his desire to immerse himself in Music. Here was a knowledgeable and passionate man who wanted nothing more than sharing music, a characteristic of others who had helped me into understanding over the years.
In the last two weeks of his life, David was high on Morphine as his motor faculties shut down. We listened to an orchestral piece by Strauss together . "He's just like us, Chris, old Strauss. Have him round for dinner one night, eh?" I kissed his forehead, and without his noticing, slipped out into the Mews.
The next time I saw him, he was in his bed, hours away from the end apologising to Emma to be found in this condition. I was master of ceremonies at his funeral, Emma sang the Mozart Magnificat bravely with an organist who couldn't keep up.
I'll be listening to Brahms First Symphony, and experience an unaccountable flavour of Smoked Salmon at the back of my mouth. Somewhere a voice will shout, "I am assuming that this is not your pal, Andrew Davis," together with a long and fruity laugh.
Anthony Rooley recommended that David's sound collection be saved for the Nation. There were many rare cds and tapes, letters written by performers and composers, inserted in the music books shelved in his outside toilet. Each institution approached saw only a nightmare of cataloguing. In the end the whole lot was junked . Perhaps some of the workers at the Council Dump knew what had been left and sold it on to Music Lovers Everywhere. What remains for me is the evocative power of mnemonic music. Certain pieces are broadcast and I suddenly dissolve in the power of memories of my musical mentor.
Like Harold Williamson, the impact made on me by the Image is strictly limited in my later years. It is Music that really matters.