American Art Narrative Painting - A BRIEF OUTLINE OF RECOMMENDATIONS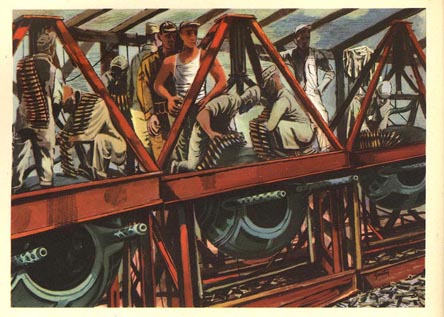 .................................................................................................................................................
KEY STUDIES
GENERAL BEFORE 1900

AMERICAN MASTERPIECES, National Gallery of Art

THE CAPITAL IMAGE , Painting in Washington 1800-1915.

MASTERPIECES OF AMERICAN PAINTING 1760-1900 Boston, Washington paris

AMERICAN PAINTINGS 1800-1865, Boston 1956

NINETEENTH CENTURY AMERICA. PAINTINGS AND SCULPTURE ON THE 100TH ANNIVERSARY OF THE MET NY
GENERAL AFTER 1900

FRAMES OF REFERENCE, Looking at American Art 1900-1950 works from the Whitney Museum

MILESTONES OF AMERICAN PAINTING IN OUR CENTURY , Boston 1949, texts and images

SYMBOLIC REALISM IN AMERICAN PAINTING Institute of Contemporary Art, 1950, complete catalogue ( Koerner, French, Cadmus, Castellanos , Wyeth etc)

MODERN ARTISTS IN AMERICA NO 1 The Arensberg Collection

CONTEMPORARY AMERICAN PAINTING The University of Illinois 1950, texts and plates

CONTEMPORARY AMERICAN PAINTING The University of Illinois 1950, FORTUNE artists biographies

ADDISON GALLERY OF AMERICAN ART 65 YEARS

The Forum Exhibition of Modern American Painters 1915 , Anderson

POP ART, John Rublowsky, a selection of photographs

THE MODERN SPIRIT, American Painting 1908-1935 (biblio)

SURREALISM IN AMERICA, Wechsler, Rutgers 1977 biblio,
SPECIFICS

TWO CENTURIES OF BLACK AMERICAN ART. LACM 1976

THE GROTESQUE IN AMERICAN ART, Robert Doty, Whitney

SOUNDING THE DEPTHS , 150 YEARS OF AMERICAN SEASCAPE

A WINDOW INTO COLLECTING, The Edward Duff Balken Collection at Princeton.

MACHINE ART. MOMA 1934

THE RAILROAD IN AMERICAN ART, the Smithsonian

AMERICAN ENCOUNTERS WITH CEZANNE

AMERICAN FOLK PAINTING (EBERT)

FOLK ART'S MANY FACES, NEW YORK State Historical Association.

AMERICAN FOLK ART (ABBEY ROCKEFELLER COLL)

ILLINOIS LANDSCAPE (1830-1975)

AMERICAN FOLK ART (BILL HOLLAND COLLECTION)

THE ART OF THE PEOPLE, (US and UK) James Ayres

BY GOOD HANDS, NEW HAMPSHIRE FOLK ART

AMERICAN FOLK ART (KETCHUM)

A WINDOW INTO COLLECTING, The Edward Duff Balken Collection at Princeton. Galleries - the artists own testimony

IN THE EYE OF THE STORM, the art of conscience, the Schiller Collection

AMERICAN VANGUARDS, Graham, Davis, Gorky and their Circle, Andover, Yale.

SHAKER HOME, BIALL
PRINTMAKING

A SPECTRUM OF INNOVATION, American Printmaking 1890-1960

AMERICAN PRINTS 1879-1979, British Museum 1980
AMERICANS OUTSIDE AMERICA

AMERICANS IN PARIS 1860-1900

ESPANA, American Artists and Spain (Sargent)

IMPRESSIONISM ABROAD, Boston and French Painting

AMERICAN IN VENICE 1879-1913 COE KERR, NEW YORK

ADVENTURE AND INSPIRATION American artists in other lands, Hirschel and Adler 1988
AUCTION SALES
SOTHEBY'S 1992 INNESS, SARGENT, PETERSON, DEMUTH WYETH DAVIS

SOTHEBY'S 1994 SHINN, SHEELER, DOHANOS NICHOLS

AMERICANA, Sotheby's 1996

AMERICANA, Sotheby's 1995 (Deyerle Collection)

AMERICAN WATERCOLOURS , THE TRANSCO SALE 1992 Sotheby's Sargent, Shahn, Benton, Pennell, Hopper etc

AMERICAN PAINTINGS DRAWINGS SCULPTURE Sotheby's 1997 Walter Gay, Demuth, Rockwell Parrish etc

AMERICAN PAINTINGS DRAWINGS SCULPTURE Sotheby's 1997 Benton Marsh Parrish David etc

AMERICAN PAINTINGS DRAWINGS SCULPTURE Sotheby's 1995 Hopper, Peto, Shahn, Rockwell (Goodrich/Hackett coll.)

AMERICAN PAINTINGS DRAWINGS SCULPTURE Sotheby's 1992 Marsh, Pene Du Bois, Demuth Crawford schamberg

AMERICAN PAINTINGS DRAWINGS SCULPTURE Sotheby's 1994 Roseland, Prendergast, Shahn, Dohanos Kaye etc

AMERICAN PAINTINGS DRAWINGS SCULPTURE Sotheby's 1995 Sargent. Levine, Marsh, Wood, Rockwell, Dohanos.

AMERICAN PAINTINGS DRAWINGS SCULPTURE Sotheby's 1992 Sargent. Kriss, Kent
...................................................................................................................................
VTS HEADINGS
Robert Riggs

American Still Life

FORTUNE illustrators

Associated American Artists, single image c1938

John Groth sketchbooks

Great Moments of your Life misc. illustrators May 1951 (single)

PENNSYLVANIA GERMAN FOLK ART, SALE, Machmer Collection

BILL HOLLAND COLLECTION OF AMERICAN FOLK ART

MORGAN RUSSELL. THE KINETIC ART MACHINE, MONTCLAIR, KUSHNER 1990
............................................................................................................................................

That American Art is synonymous in the public mind with abstraction and painterliness for its own sake; that Abstract Expressionism cannot be understood without recourse to subject matter.
That in reacting against European modes of imagemaking, there came into being an eccentric figure drawing style with strong narrative possibilities.
That the career of Philip Gaston exactly mirrors the promise and failures of American painting as it tried to define those narrative possibilities.

1. Some surprising Artists.

1.1 Paul Cadmus ; b.1904,
1.2 George Tooker; b.1920, studied under Marsh, Cadmus and Kenneth Hayes Miller.
1.3 Jared French ; b. 1905.
1.4 Peter Blume , b.1906.
1.5 Marvin Cone 1891-1965;
1.6 Clarence Holbrook Carter , b.1904.
1.7 Robert Riggs 1897- 1970;
1.8 Hananiah Harari, b.1905; being figurative and non-figurative at the same time.
1.9 Alexander Hogue , b.1898;

Regionalist Masters ;
Grant Wood,
Thomas Hart Benton,
John Steuart Curry,
Paul Sample.


Figure Painters ;
Reginald Marsh,
Ben Shahn,
Jacob Lawrence,
Philip Evergood,
Andrew Wyeth.

Trompe L'Oeil
Peto and Harnett



Other narrative painters you should know about ;
Edward Hopper,
Charles Sheeler,
Charles Demuth.
see also artist illustrators working for the ads

Themes of the Lecture ;
The impact of the city and its technology.
The tension with the agricultural.
The depiction of the body despite the Ecole de Paris and the influence of Europe.
The sensuality of the American figurative and the influence of gay artists.
The satirical intent of American Art versus the dramatic narrative of the Mexican muralists (Rivera, Siquieros).

BOOKLIST
Belisario Contreras, Tradition and Innovation in New Deal Art , Assoc.Univ.Press, London 1983.

Carey and Griffiths, ex.catal., American Prints 1879-1979 ,British Museum, London, 1980.

Milton Brown (ed), ex.cat., The Modern Spirit, American Painting 1908-1935, ACGB London 1977.

Apollo Magazine, March 1981, entire issue on "American Realists" .

M.S.Young, American Realists, Homer to Hopper, Galahad, NY, 1977.

Heller and Williams, Painters of the American Scene ,Galahad, NY, 1982.

J.Wechsler, Surrealism and American Art, Rutgers Univ.Art Gallery, 1977.

ex.cat., American Art 1934-1956, selections from the Whitney Museum, Montgomery, Ala., 1978.

Karen Tsujimoto, Images of America, Precisionist Painting and Modern Photography , Univ.of Washington Press, London, 1982.

Hills and Tarbell, The Figurative Tradition and the Whitney Museum of American Art , Whitney, NY, 1980.

Buckley and Agee, The Ebsworth Collection; American Modernism 1911 - 1947 St.Louis Art Museum, 1988.


Nygren and Marzio, American Figurative Art from the Corcoran Gallery .Smithsonian, Wash.,1981.

Matthew Baigell, The American Scene, American Painting of the 1930's, Praeger, NY, 1974.

Lincoln Kerstein, Paul Cadmus , Imago, NY 1984.

Thomas H.Garver, George Tooker, Rizzoli, NY, 1985.

F.A.Trapp, Peter Blume ,Rizzoli, NY 1987.

J.Czestochowski, Marvin Cone ,Dutton, NY, 1985.

Trapp, Dreisshpoon, Pau-Llosa, Clarence Holbrook Carter, Rizzoli, NY, 1989.

Ben Bassham, The Lithographs of Robert Riggs , Art Alliance, Phil., 1986.

Lea DeLong, Nature's Forms/Nature's Forces, The Art of Alexander Hogue ,Univ.of Oklahoma Press, 1984/5.

McGrath and Glick, Paul Sample, Painter of the American Scene , ex.cat., Dartmouth College, 1988.

Lloyd Goodrich, Edward Hopper, Abrams, NY, 1971.

Gail Levin, Edward Hopper as Illustrator, Whitney, NY, 1979.

The Prints of Reginald Marsh ,Potter, NY. 1976.

Barbara Haskell ,Charles Demuth ,Whitney/Abrams, NY. 1988.

Wanda Corn, Grant Wood, The Regionalist Vision ,Yale Univ.Press, London, 1984.

Lincoln Rothschild, To Keep Art Alive, Kenneth Hayes Parker , Art Alliance Press, Phil., 1974.