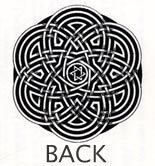 JOHN VERNON LORD
Illustrating 'The Hunting of the Snark'
A talk given by John Vernon Lord at a Lewis Carroll Society event in the Haldane Room, University College London, on Friday 10 November 2006.
Preamble

The text below is a transcription of John Vernon Lord's talk to the society about illustrating Lewis Carroll's The Hunting of the Snark. John was invited by Dennis Hall, of the Inky Parrott Press at Church Hanborough, to illustrate a favourite text as part of his series of 'Artists Choice Editions'. The book was published in 2006 in a limited edition. John spent 64 days illustrating the poem, taking nearly 336 hours to draw the 84 illustrations (some of them very small indeed). The time taken on the whole job worked out at about 440 hours. This included: researching material about
Carroll, the Snark, and the illustrators of his books. As well as reading the text of the Snark this involved him in reading a number of biographies about Dodgson, his diaries and letters and his relationship with Macmillan, the first publisher of the Snark. John also wrote a foreword and afterword for the book.
© John Vernon Lord (November 2006