A GENERALIST AT THE OPEN UNIVERSITY
Recent turbulence and friction at the Open University allowed me to fondly recall better days. I spent about five years working as a Tutor in the East Anglian region, marking scripts at home (the Tutor Marked Assigments. TMAs), visiting the local study centre in Norwich and occasionally a day course at Cambridge. I never got to do a Summer School, witnessing at first hand the unlaced vibrancy of mature students discovering learning for the first time since their youth, a Bacchanal so beloved of the editors of the News Of the World.
My performances as an academic depended almost entirely on the student esprit de corps and in particular the boss who oversees , be it John Vernon Lord, Penny Hudd or John Purkis the Open University Arts Staff Tutor. John Purkis foresaw the day when crowds of OU students waving scarves and chanting would engulf provincial stations and cause distress to the local constabulary. This was clearly the intention of Harold Wilson but hardly credible in post Thatcher times.
Having emerged from the conventional university system, albeit one overseen by that maverick Professor Peter Lasko (seen once on his lawn achieving considerable height on a Space hopper may I add), I appreciated several characteristics of the OU
The quality of the students – Postal Workers, Army Officers, mature students returning to formal education having brought up a family.
Innovative strategies of teaching and learning. Course handbooks and TV/Radio programmes, slides,
The possibilities of student studies being focused on an awareness of local (design history).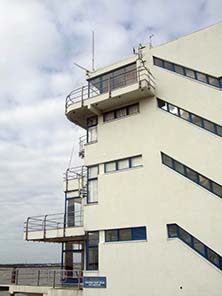 I had about 15 students on the now defunct A305 History of Architecture and Design 1890-1939 course which started in 1975 and was sloed in 1982 . The modules were written by the best, Tim and Charlotte Benton, Dennis Sharp and Ratner Banham. The books were supported by excellent TV programmes most of which I have copied. A sleeve contained a film strip of key images. Each student would select an artefact relevant to the course in their vicinity for an extended and often ambitious research project. There was one report on Emberton's Royal Corinthian Yacht Club in Burnham on Crouch. Another student managed to scrutinise Murphy's own collection of radios at Welwyn Garden City. With student in tow I visited W.F.Crittall's own house designed by T.S.Tait, New Farm, Great Easton near the model village of Silver End. Mrs. Crittall must have been in her eighties but told me about Gropius and Mendelssohn once sitting where I was, while gazing adoringly at the long haired darkly attractive manager of her apple farm.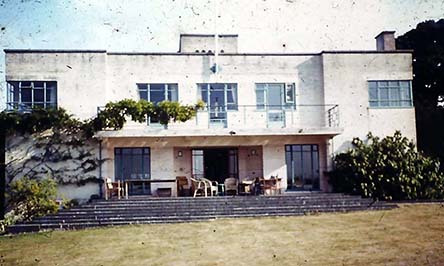 Having been identified by John Purkis as a generalist, I also marked TMAs when other tutors were on their hols, One July I marked 30 scripts from a military college where the next generation of soldierly were asked to apply their critical minds to the phenomenon of Marx, and the achievements of Macchiavelli. I confess to a generosity of marking in case a counter coup found me in a dungeon in Aldershot. "Are you the Dr.Mullen who gave me an A for my paper on Bakunin? Release him immediately…:
One student was late with his paper and offered to deliver it personally. I explained how far he'd have to drive at night and described the rocky path down to the house in Hardingham. I switched the outside light on that night. At 7.30 there was a knock on the door, and this giant of a man was bending down to peer into the light. It was Derek Wyatt, the England Rugby international and future M.P. He confided how reactionary was the England Dressing Room and that he bit his tongue during bilious diatribes. Surely I thought a fine figure of man like Derek would feel no fear in the dressing room. But in the next televised international, he was dwarfed by other members of the English team. Derek was to go on to huge political success, and from this brush with fame, I followed his career keenly.
Occasionally the OU would organise Home study sessions and I would appear like a Party Conjuror in somebody's house once they were all settled. Teaching at Art Schools it was possible to dispel deference over the weeks, very necessary for Asian students convinced their tutor was their unchallengeable guru. With the Open University it had to be achieved swiftly but not to undermine the sense that this was a proper degree. Occasionally I would doodle at the foot of the scripts, on one occasion I took the piss out of the phrase " the slow sunset of Art Nouveau". The more the landscape seemed to work the more the drawing became richly satiric. I was reluctant to surrender it.
Frank Jackson, my pal and colleague at Brighton also worked for the OU and relished the Summer Schools, meeting his eventual wife there. Heide Grieve also worked as an OU tutor and was sometimes on the evening shift. Her husband was only minutes late picking her up from the OU study centre in King Street in Norwich. Never again, he said, as she had received several proposals from interested passers-by in that short time in Norwich's notorious red light district.
The day schools were always an attraction despite once taking my rejected slides instead of the selected ones. For one lecture on Jack Pritchard and Isokon I had to supply my own blackout curtains and projector. On the other hand, for a lecture on Botticelli and Savonarola there was innovative provision for students who were deaf or hard of hearing. I was proud to be present when a speed typist at a monitor sent out a running summary to seven students sitting in front of their own monitors. Thumbs up, indicated the transcriber. I was off to a clatter of keys under flying fingers. Each phrase carelessly issued from my mouth found concrete form. "Well, then…" clatter, clatter. clatter. I had no problem adapting to this new experience, and rolled with the punches as the students delighted in the parallel rhythms of keyboard and voice box. After twenty minutes, I began to get disconcerted by the registering of a dense paragraphs of description of Savonarola's Hell Fire sermons seemed to elicit a mere handful of scratchy fingerings. As I rose to the whole coda of "Botticelli and the Piagnone" , describing the performance art of dancing girls on an iron hoop in the Dome of Florence Cathedral, the transcriber appeared to be distracted by something down the front of his cardigan. My dramatic pause and glare delighted the audience, and he became alert to my delivery. "And finally, " I said looking over nervously, "it cannot be said that being a Piagnone made the slightest difference to the repertory of form and colour Botticelli allowed himself." What could have under normal circumstances been greeted by the rapt applause of a transported audience became an uneasy silence as the audience turned to the transcriber. He had clearly let his attention wander and had missed the whole point.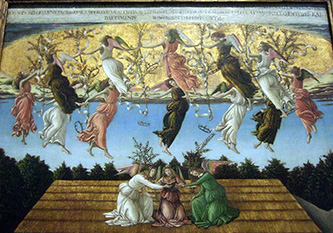 After a pause, he typed, "THE END" to much loud amusement among his seven constituents. "Well that went well." He said. But I didn't have the heart to disabuse him. Those listeners with adequate hearing rushed to monitors to see the evidence of his distracted mind.
The OU teaching books mounted up on the shelves in my library. In 1983 I got to meet and teach with the retired Professor of Art History, Aaron Scharf who was to be a huge presence in my life. Far from retiring from the Open University as is supposed, he told me he had been hounded out by Marxist mannikins averse to his pragmatic approach to art and history. Aaron taught as a Visiting Lecturer in Photography in the Design Department at Norwich, even when ill and tired, getting a lift in with Andy Vargo, and having lunch with me on a seat overlooking the Marketplace, before toddling off to buy a tractor part for a machine on his small holding.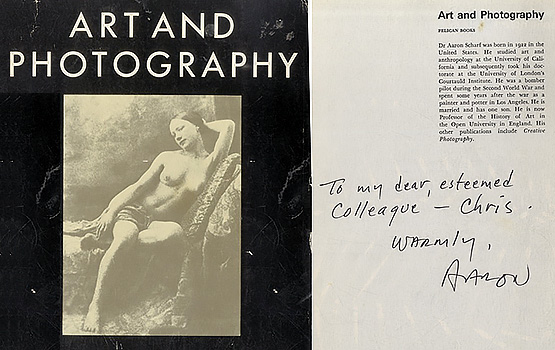 Tim Giles and I pressed him to write his autobiography, which materialised as FLAK wisely concentrating on his experiences as an USAF pilot in the Second World War. When I bumped into the forbidding Stephen Bayley at a day school, he went positively misty eyed at memories of working with Aaron and on the preparation of Introduction to Art , for the Arts Foundation course.
My activities with the OU eventually were curtailed by Colin Cunningham the Supremo at the time. He had the decency to come all the way to our isolated cottage in Norfolk to tell me I was being let go. The implication was that I was a tad too informal in my stewardship and not sufficiently seen to apply the agreed academic levels of achievement specified in a tutor's briefing document. Maybe I was also getting jaded after five years.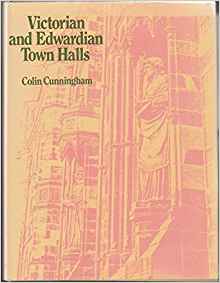 It was with a degree of satisfaction that, when I fell asleep one evening over a book, Victorian Town Halls, I noted that the author was one Colin Cunningham. John Purkis' A Preface to Wordsworth would have kept me alert under all conditions.