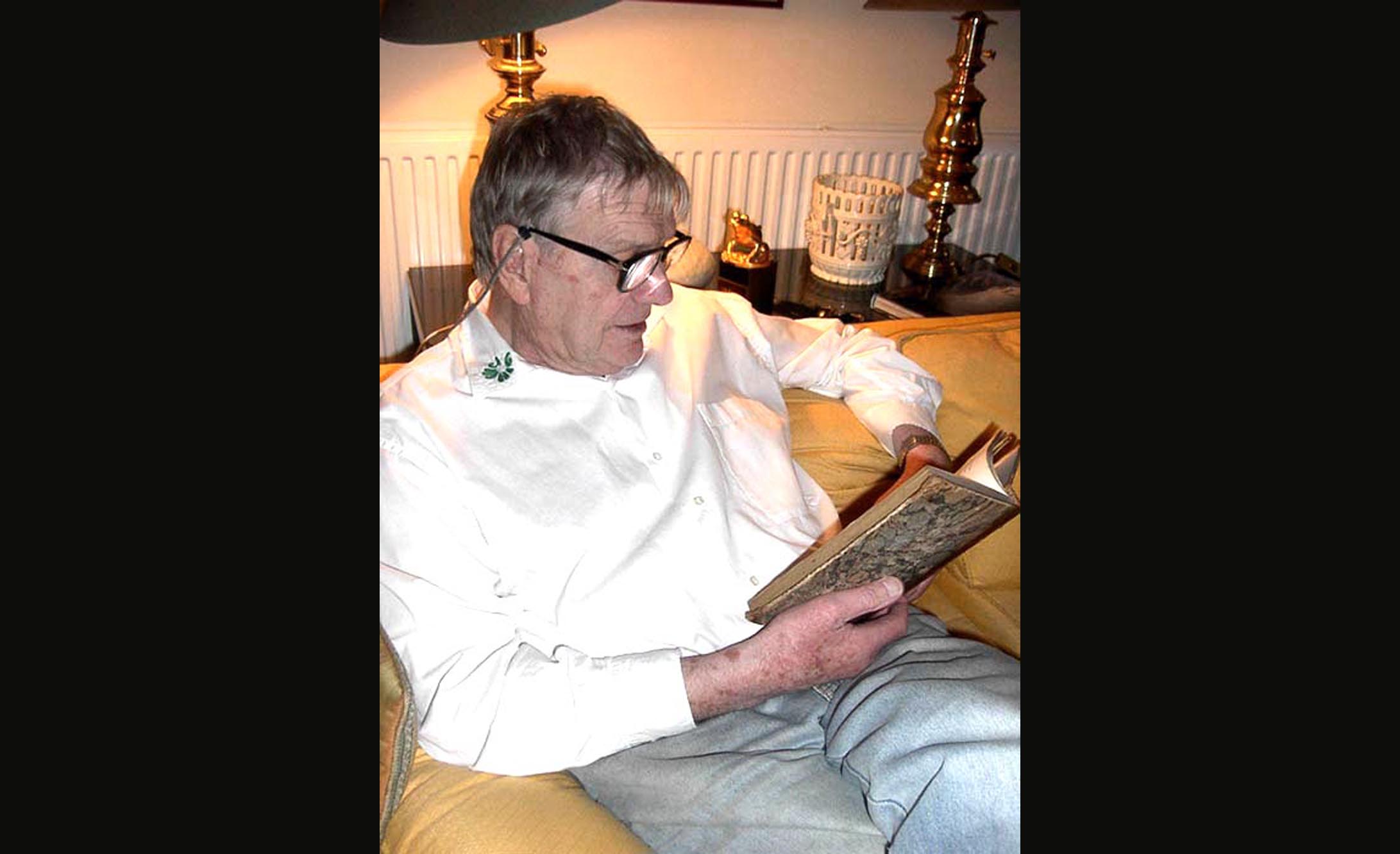 click here for a visual record of the Library at Sussex Mews
Lacking a formal education, David Watkin was insatiably curious about the world, and in particular, events where, he suspected, somebody was pulling the wool over his eyes, be it the Titanic, the Grassy Knoll or D-Day. He tested an authors' reputation and others' claims for them, as he did composers. Disputes with friends and acquaintances could only be answered by return to the original sources. He was rarely wrong but was always eager to accept limitations on expertise as he did in cinematography.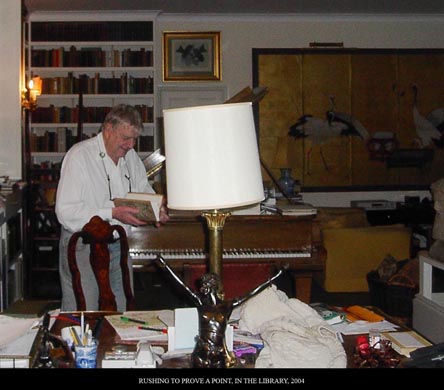 rushing to prove a point, 2004
He would return from a shoot delighted that he'd gossiped with an actor only to find, as he did with Depardieu on Bogus, they both had things to say about Saint Simon's Memoirs. Shared impressions delighted him but they had to be tested, substantiating the initial expressions from his usually sharp memory. "Don't you know about Firbank? " he said to Whoopi Goldberg, and promised to send her a copy of Prancing Nigger (the general freeze in the atmosphere on set was guaranteed to make him roar with laughter). When we first met he fished out a copy of Lytton Strachey's Ermyntrude and Esmerelda to mark our new friendship. I found it unreadable.
He was a conventional book collector whose custom was eagerly sought by the Premier Division Booksellers such as Ed Maggs and David Brass. Whether in New York, Prague or Japan, he made a bee-line for familiar dealers who had delighted him in the past. It was the same with recorded music. I still have a copy of Barbirolli's Sibelius Orchestral Works he gave me. purchased in Tokyo with a packaging and a generous booklet printed entirely in Japanese.
I long suspected he was a collector of erotica, but despite a puny collection of fey beefcake books, he preferred his stimulation from disreputable porn videos where sailors, monks and submariners disported themselves against cardboard sets. The exception was a large collection of pamphlets and slim volumes of Ralph Chubb. He delighted at Oriole's shudder when he confronted her with a book about a spanked schoolboy bound in standard issue educational corduroy.
He also dealt actively with dealers in manuscripts and letters. Catalogues were invariably lying on the doormat or in piles around his home, marked for purchase or reading aloud to pals. During one lunch at Sussex Mews I listened to a letter sent by Shostakovich listed for sale, how he had been pursued by an angry mob after the young composer had been seen pinching the enormous arse of a female passer by.
David's library was a marvel of his steady conventional buying, and only the best editions were tolerated. They became supplemented as documents and original letters became available. As his career tapered off beyond that point where insurance companies refused to insure him to complete a film at his advanced age, he began to scale his library back, substituting, say, the Nonesuch Dickens for his specialist collection, many in their original parts.His characteristic rashness was revealed when his Nonesuch edition of Dickens' complete works proved to lack an index which he had thrown away with the packaging.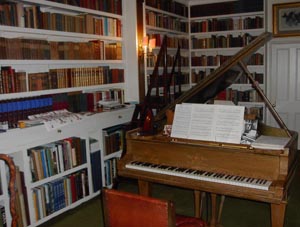 Sussex Mews Living Room. Books and Piano with Schnabel's Stool
In the main room the length of two mews houses knocked together was his main display of literature, Joyce, Eliot and Pound, Hardy, Conrad and H.G.Wells. In pride of place was a solid phalanx of Victorian triple deckers, Lytton, Disraeli and Ainsworth for example. There was a long section of reference books with his edition of Groves given him by Sidney Lumet in pride of place for easy access.
This distinguished run was in marked contrast to books in his bedroom, fine bindings and early private press, contrasting with a wealth of Wodehouse in original jackets and the complete Richmal Crompton's William Books.
Not until I was responsible with Rachael for cataloguing the books for posthumous sale , did I get into an upstairs Guest Room where his travel and topography books were locked. The anorak side to his reading was herein contained with railway magazines, monographs on engineers and scientists (of course the pioneer Sir Edward Watkin). Along one wall was a collection of rustic effusions (W.H.Davies and R.H.Mottram) with books about his home town Brighton. One delightful surprise was moving a yard of books to find a small demure model engine peeping out from behind them.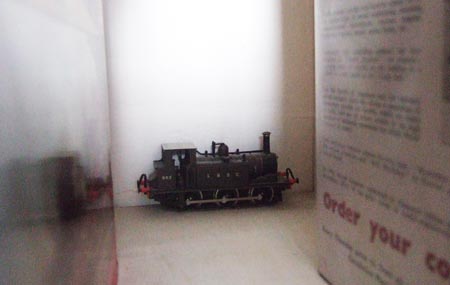 Window shelves and poncey antique cupboards contained other rare gems. Interestingly his interests in the Visual Arts were even more conventional; with picture monographs on the standard artists and few of any interest. Seeing my collection, he would sweep past anything in which Art was explored in words. The first week I met him, he said he was looking for a book for his then boy friend Andrew and could I suggest a title that would please him as he was very "Modern' in his tastes. I went to outlandish lengths in Post Modernism and Performance Art before I realised that David's idea of Modern was Salvador Dali not Sol Le Witt.
Other neglected areas of the library were Film, Poetry and, to an extent Music. Film he regarded as a trade and the books that he owned were basically trade manuals. Biographies of his heroes, Humphrey Jennings and Ken Russell, lay in some disorder in a gloomy back room, with a smattering of first editions which was a Dead Zone, embellished with a Clapperboard.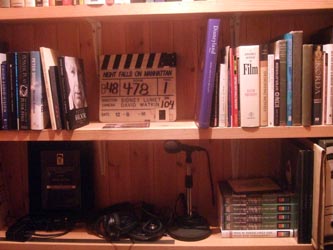 click to enlarge

His music books were kept in the downstairs lavatory, biographies of composers and performers, the rambling memories of old salts. A gold plated "Minge Clip'' presented by one of his crews stood beside a tower of toilet tissue, and his Oscar (for Out of Africa, was keeping the door from swinging shut. In a cupboard with dusters and floor polish was his collection of scores. Tucked under the stairs were his editions of Robbins Landon on Haydon, and skulking signed photographs of Furtwangler and Mengelberg. One high shelf out of reach and sight held his collection of Crime Fiction (all firsts)
The shelf which took pride of place was the shelf on the half landing where real whoppers in fine binding (Johnson, Hollinshed etc) stood for the reader's admiration.
Unlike many collectors, he delighted in sharing his library with friends, and even passersby. In a chemist's shop he overheard students from the University of Sussex talking about T.S.Eliot. He gathered them all up and took them back to Sussex Mews to see his collection. One girl excusing herself for the Loo, and used the discussions as cover to get upstairs to nick silver items from a small cabinet. He refused to prosecute or even mention it again. More constructively he would entertain my students who had never seen a private library and who were much more honest and responsible that the Uni of Sussex Thieves.
.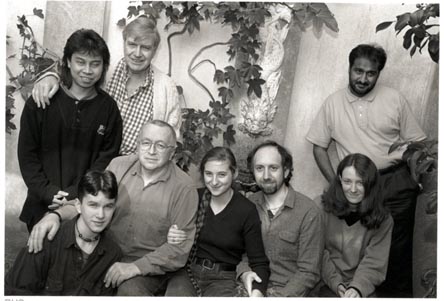 The Brighton PhD group (with Sam and Martin) at Sussex Mews
Jackie Batey and I ran an experimental summer workshop for external students. The group was about fifteen in number, from the Philippines, Belgium, Holland, German with the Grand Artist Colin Ruffell from Brighton Town. Mr. Watkin gave us tea and a tour of the library. One German student asked me sotto voce if the woman cleaning the kitchen was Mrs.Watkin, occasioning much mirth in a Dutch colleague. Menno, who was much more worldly wise to the ways of Gay Men. This handsome lad even had the audacity to ask David what a Best Boy was on Film Titles. David long regretted not asking Menno whether he was fishing for compliments.
Before his death David asked me to help sell the collection as part of his estate, His civil partner had a doom laden feeling that the best stuff had gone and that the residue was not worth more than, say, £10,000. I was to take a percentage as fees but I preferred a choice of books with which to remember their owner. Rachael Adams had been asked by David's partner to live in the house with her husband David, in the period during which house and contents were sold.
In characteristically beautiful colour coded plans, she devised a System of reference and we got to work, listing the bibliographical minimum to each book. I
would hurtle through titles and any details of value added items. It was a fascinating and delightful task. Given the value of the library we had to take care that everything was above board, that all books were accounted for. David had asked me to ensure certain titles were offered to Eton College Library. David Plumtree of Holleyman and Treacher came to Sussex Mews to check our deliberations. He had ceased trading and was an obvious and scrupulous guide. It soon became clear that rather than parcel books out to interested dealers, we could, without offending anyone, offer the collection to Maggs Brothers of Berkeley Square, London, Ed had been an old and devoted chum who I first met at the funeral, and gave the will's benefactor a great deal based not on a lump sum but on percentage of sales from a dedicated catalogue prepared by David Plumtree entitled "A Reader's Library".
I had never met the new Librarian at Eton who came to lunch one day after David's death to inspect the titles earmarked for her acquisition, which included a rare Fielding item. She was delightful and eager to acquire books from David who the Chief Librarian Michael Meredith had often invited at no fee to talk to boys about movies.To make sure the dozen volumes for Eton were not swept up in the main sale to Maggs, I separated them from the main collection in a draw in the main bedroom. Almost instantly I received a suspicious telephone call in which I was asked to account for this, and that these books had not been set aside for my own purposes. Even in my brief career in law, I had keep to high standards of transparency and the books with which I was paid (Milton, Sterne and Marvell) were valued by David Plumtree as appropriate a fee. It left a bad taste in the mouth as the whole exercise was a tribute to my dear friend and his magnificent collection rather than a biblio bun-fight and free for all.
Before his death, David was worried that there were no legal ways in which he could recognise the pleasure given him by old boy friends and helpers. This was, he argued, much easier than changing his Will. He suggested that I let myself into the house while he was still warm on the slab, and fill a swag bag with titles that the recipients could sell for profit. In retrospect, and given the gathering suspicions and indeed greed that gathered as the estate was dispersed, I am glad I made it clear to him that I would do no such thing.
The melancholy intensified when the Library was packed into boxes (marked A.B and C according to importance) and driven off in a large rented van to Berkeley Square.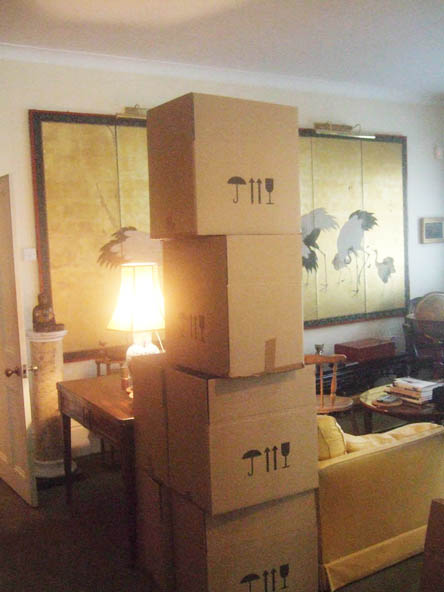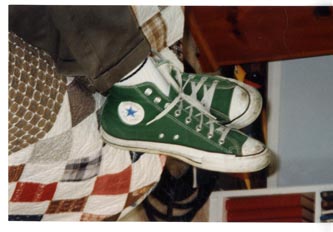 for the David Watkin website
by Rachael Adams
and Chris Mullen